BDS Enters Subs with Pair of Wins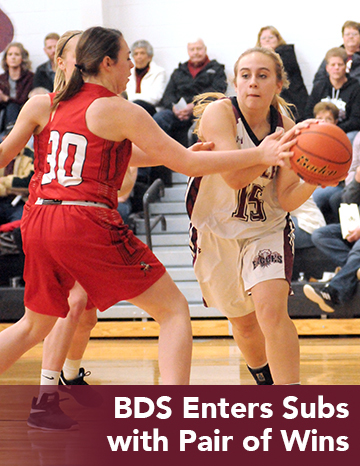 Bruning-Davenport/Shickley welcomed Meridian to Bruning for a regular season conference game on February 11. The two teams met previously on January 13 to open the MUDECAS tournament. BDS won that game 60-41.
The Lady Mustangs opened up the game on an 8-0 run before the Lady Eagles would respond with an 18-0 run of their own to end the first quarter. Macy Kamler had nine of the 18 points in the run. Meridian would edge BDS in the second quarter outscoring them 12-11 but it would be the Eagles who would take a 29-20 lead going into halftime.
After three quarters of play, the Lady Mustangs trimmed the Eagles lead to six going into the fourth and final quarter. The Eagles would explode for 21 points in the fourth quarter to open the game up and keep the Mustangs from climbing back into the game. With the 59-38 win the Eagles improved to 15-4 on the season.
Leading the Eagles with 26 points and five assists was Kamler, followed by 12 points, 12 rebounds and four blocks from Regan Alfs and 10 points from Rylee Haecker. Taylor Sliva dished out seven assists in the game.
In the final home game of the 2019-2020 season, BDS hosted the High Plains Lady Storm on Valentine's Day in Davenport. Before the game started the four Eagle seniors, Raegan Fiala, Rylee Haecker, Kaylee Noel and Regan Alfs were honored and recognized.
"Thank you seniors for your hard work and leadership during your high school career," commented BDS head coach Shana Gerberding.
The Lady Eagles took control early in the first quarter and would lead 17-4 after eight minutes of action. The second quarter was similar to the first quarter where the Lady Eagles' defense would hold the Lady Storm to just one made field goal. Going into half time, the Eagles were up 28-6 and would go on to get the victory 48-9.
With the win the Eagles improve to 16-4 and No. 5 in wildcard points in Class D-2. Macy Kamler had 13 points, eight rebounds and four steals in the game, Rylee Haecker chipped in 10 points, followed by Regan Alfs with nine points.
The Lady Eagles began D2-6 Sub-District competition on Tuesday, February 18, at Grand Island Central Catholic High School at 6 p.m. versus the winner of Monday's game between the Giltner Hornets and Hampton Hawks. Nebraska Christian and Lawrence/Nelson are on the other side of the sub-district bracket.