BDS Falls To L/N In Sub-final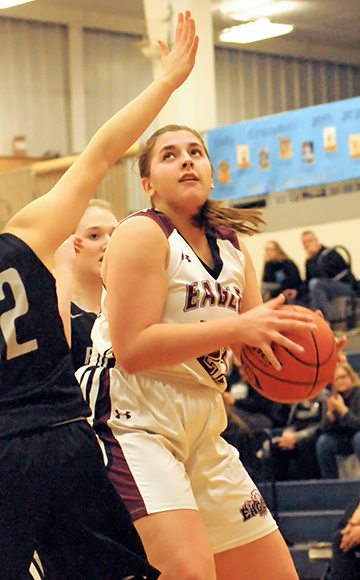 The Lady Eagles began sub-district play at Grand Island Central Catholic vs the Hampton Lady Hawks on February 18. Both teams played in the season opener on December 6, 2019, with the Eagles winning 61-17. With Hampton's season on the line in the sub-district game you knew they would come out fighting and that they did.
"In the first quarter, our defense wasn't as sharp as it needed to be but the Eagles held a 15-10 lead after quarter one," Bruning-Davenport/Shickley coach Shana Gerberding said. "We switched up our defense and were able to force nine turnovers in the second quarter and held Hampton to just three points."
At the half, BDS led 33-13 and would go on to pick up their 17th win on the season with a 55-24 win. The Eagles forced Hampton into 22 turnovers in the game and scored 23 points off of those turnovers. Macy Kamler led the Eagles with 23 points, 13 rebounds and seven steals. Regan Alfs chipped in 15 points, followed by Jordan Bolte with eight points.
With the victory over Hampton, the Lady Eagles would have a re-match vs the Lawrence-Nelson Lady Raiders in the D2-6 Sub-district final. The Raiders were victorious over the Eagles back on December 14, 2019, by a score of 43-37. The first quarter proved to be the difference in the game, as the Eagles weren't as focused as they needed to be in a game like this. The Raiders led 16-7 after one period of play. The Eagles were able to put up 14 points in the second quarter but were still down 27-21 at the half.
"I'm proud of how the girls never gave up in the game and battled back in the game and had their chances down the stretch to get the win," Gerberding said.

The game was tied at 52-all with 46 seconds left in the fourth quarter but a couple empty possessions by the Eagles ultimately sealed the win for the once-beaten Raiders.
"You have to give the Raiders defense credit in those last couple possessions after we tied the game, against good teams and this time of the year, you have to execute in those moments," Gerberding said.
BDS turned the ball over 18 times and L-N scored 23 points off of those turnovers. Leading the Eagles were Regan Alfs with 21 points and 13 rebounds and Macy Kamler, who scored nine points, had eight rebounds and made five steals.
Despite the loss, the Eagles earned a wildcard to play in the D2-6 District Final game this Friday, February 28. BDS (17-5) will travel to Boone Central (Albion) to play 13-9 Stuart at 6 p.m., for a chance to get into the 2020 NSAA Class D-2 Girls State Basketball Tournament.