County COVID-19 positives at 24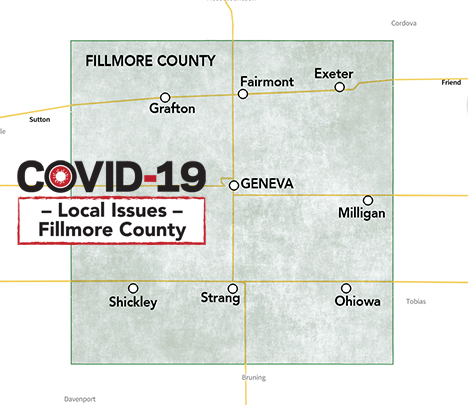 By Signal Staff
Three more Fillmore County residents tested positive for COVID-19 last week pushing the total positives for the county to 24. New positives in the Public Health Solutions (PHS) health district remained much lower than the statewide average. New positives increased from 13 to 14 in Jefferson County; 74 to 82 in Gage County; 571 to 583 in Saline County and 24 to 25 in Thayer County. With 25 new coronavirus positives, the PHS health district went from 703 positives to 728, an increase of 3.4 percent.
Statewide, COVID-19 positives increased from 24,491 to 26,702—a nine percent increase. Deaths in the Cornhusker State increased from 322 to 338. In neighboring Clay County, COVID-19 positives went up 11.6 percent (from 43 to 48). In York County, coronavirus positives increased 10 percent (from 67 to 74).
According to recent information provided by PHS, from July 22 through July 29, PHS received three hundred nineteen (319) lab results. Of these results, a total of twenty-six (26) were positive, and two hundred ninety-three (293) were negative for a one-week positivity rate of 8.2 percent. A cumulative total of six thousand nine-hundred twenty-four (6,924) tests have been administered in the PHS district with an overall positivity rate of 10.34 percent.
The PHS Data Dashboard and Risk Dial, both available on the PHS website www.phsneb.org, have been updated to reflect data from the previous week. There has been a slight increase in the positivity rate, indicating a moderate risk for viral community transmission.