Eagles Win District Title...Again
Details

Published on Tuesday, 23 October 2018 19:19
Written by thenebraskasigna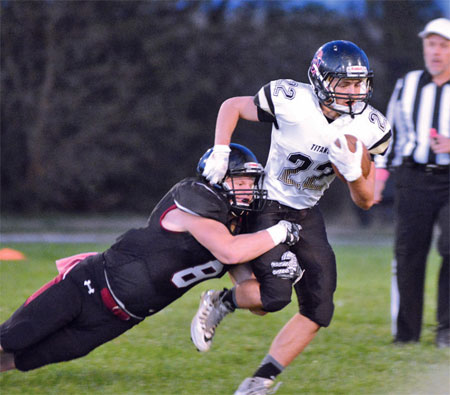 For a fourth-straight season, Bruning-Davenport/Shickley claimed a District championship with a 46-12 win over Thayer Central Friday night in Shickley.
The 8-0 Eagles started out strong on October 19 outscoring the visiting Titans 32-6 despite suffering some key injuries. The home team stayed dominant in the second half scoring two more touchdowns in the third quarter. TC added a fourth-quarter score.
"We'd like to congratulate our seniors," BDS co-head coach Chris Ardissono said. "They've never lost a regular season game...this is also the fourth District title they've been a part of."
Dalton Kleinschmidt scored three touchdowns and a PAT in the win. The sophomore rushed for 82 yards. John Christensen rushed for 86 yards and a score before being forced out of action with an injury. Dylan Domeier rushed for 120 yards and a score and a PAT. Domeier also passed for 62 yards—51 yards to Logan Schroeder and 10 yards to Kameron Dickson.
Heath Calvert rushed for 20 yards and a touchdown (also a PAT) for the Eagles. Dickson and Aaron Mick also converted PATs for the winners.
Pacing the BDS defense were Isaac Kamler and Kyle Ardissono with 13 and 12 tackles, respectively. Nolan Weber and Josh Swartzendruber were in on nine tackles each. Mick made eight tackles and Dickson was in on seven stops.
BDS had 17 first downs and 396 total yards. The Titans produced 11 first downs and 232 yards of total offense. TC had one turnover and BDS was whistled six times for 66 yards.
The win Friday was also Ardissono's 200th career head-coaching victory.
"I've had a lot of support over the past 25 years," Ardissono said. "I never would have made it by myself. Tom Kiburz gave me my first chance at coaching football. I've co-coached with Mark for 18 years, and he's taught me a lot about the game of football. Our program isn't just about football, it's changing boys into young men. We've had a lot of fun and hopefully learned some values to help us in life. Many others...family, coaches, friends and especially the players have made this journey enjoyable."
BDS is the No. 4 seed on the East side of the Class D-1 State Playoff Bracket. The Eagles will host 4-4 Osceola/High Plains this Friday at 6 p.m., in Bruning. A win against the StormDogs would, more-than-likely, have BDS hosting 8-1 Lutheran High Northeast on Wednesday, October 31, in Shickley.