Bobcats Finish 8-0
Details

Published on Tuesday, 23 October 2018 19:20
Written by thenebraskasigna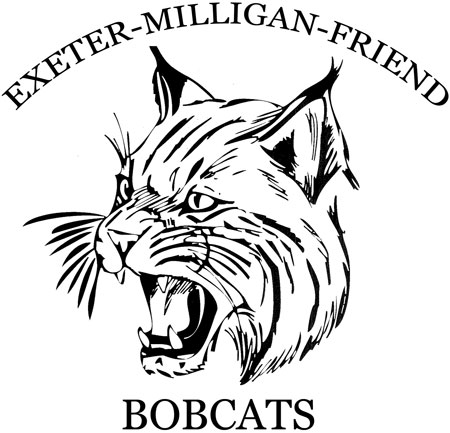 Exeter-Milligan/Friend capped its inaugural season as a co-op squad with a perfect regular-season record after downing Cross County 46-28 in rural Stromsburg. The contest was very competitive through three quarters as the upset-minded Cougars battled the state-rated, undefeated Bobcats back-and forth.
EMF led the contest 24-20 at halftime after Cross County scored in the final second of the half on a 41-yard bomb. Both teams hit the scoreboard once in the third quarter. The Bobcats dominated the final period to cement the win and enter the D-1 State Football Play-offs at 8-0.
Both teams exchanged touchdowns in the first half. After a Cougar score, Bobcat quarterback Spencer Pribyl hooked up with Max Zeleny for a four yard TD. Pribyl converted the PAT with his legs. After another Cougar score, Mitchell Manning plunged in from one yard out. The senior running back also added the PAT. Teammate Edwen Baptista would crash in from 13 yards for the next score of the game. The senior also converted the PAT on the ground. Baptista rushed 32 times for an eye-opening 222 yards in the victory. He also caught one pass for 25 yards. Manning rushed 18 times for 58 yards and hauled in a pass for 19 yards.
Baptista started the second half scoring with a five yard TD scamper and the ensuing PAT. Pribyl connected with Trever Zelenka for a four yard pitch-and-catch to start the fourth quarter. Pribyl went 7-for-10 through the air for 71 yards and two scores. Zelenka caught two passes for seven yards. Zeleny caught three passes for 20 yards.
Baptista would cap the scoring in the game with a one-yard TD plunge. He also made the PAT—EMF was five of six on PAT attempts in the game.
The Bobcat offense produced 374 yards of total offense and 25 first downs. Cross County had 16 first downs and 247 yards of total offense. EMF had one turnover and six penalties accounting for 60 yards.
Pribyl and Baptista were both in on 7.5 tackles. Manning had 6.5 tackles and Zeleny had six.
No. 2, East seed EMF hosts 3-5 East Butler this Thursday night at 7 p.m., in Milligan. With the win, the Bobcats will play Round 2 the next week on October 31.