Geneva YRTC volunteers recognized
Details

Published on Tuesday, 11 April 2017 19:20
Written by thenebraskasigna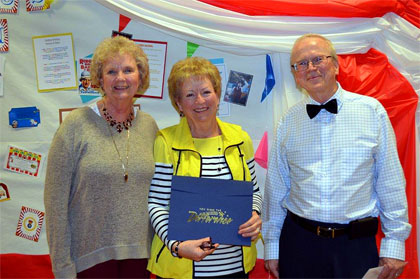 Fifty Geneva-area volunteers at the Youth Rehabilitation and Treatment Center were recognized recently for their service to the young women at the facility.
Honored for reaching milestone years of involvement included:
• Amy Jensen, Geneva, for five years as a religious volunteer.
• Mina Nutter, Geneva, as a 10-year member of the community advisory board.
• Sharon Jacobs, Geneva, as a 20-year member of the community advisory board.
• Sharon Kennel, Strang, as a 35-year member of the advisory board.
• Mary Ann Najmon, Geneva, as a 45-year member of the advisory board. She received additional recognition for her involvement on the chapel board and piano playing for many years at various events.
In addition, Stacey Eberly and Father Scott Courtney, both of Geneva, were recognized as new volunteers.
Facility Administrator Dan Scarborough thanked all volunteers for their work on the advisory board, equine program, religious program, mentoring the youth including UNL student mentors, theater workers, the annual Christmas store and the Federated Women's Club.
"We are blessed to have so much positive support from residents in Geneva and the surrounding area," he said. "They make a difference in the effectiveness of our efforts with our young women in helping them see a brighter, more meaningful future."
The banquet was held in the YRTC gym and attended by more than 80 people including staff and their families, volunteers and youth at the facility.
Special guests at the event were Mark LaBouchardiere, Office of Juvenile Services Administrator, Children and Family Services at the Department of Health and Human Services; Anne Hobbs, University of Nebraska at Omaha Juvenile Justice Institute; and Niki Berggren, CFS Juvenile Justice Administrator; and YRTC Programs Manager Danielle Larson.
The theme for the event was "Under the Big Top." Staff and youth decorated the gym like a circus tent with stuffed circus animals and displays. YRTC Volunteer Coordinator Shirley Kamler and the Employee Recognition Committee were recognized for organizing the event.