Fillmore Central FBLA Qualifies Six For National Competition At SLC
Details

Published on Tuesday, 18 April 2017 21:19
Written by thenebraskasigna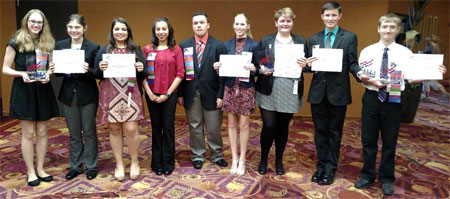 The Fillmore Central Future Business Leaders of America had a stellar performance at the recent State Leadership Conference held in Omaha. The 17 members representing the chapter brought home nine chapter awards including the prestigious Gold Seal Chapter award which is only bestowed upon the top 10 percent of chapters in the state. In addition to qualifying six members for national competition, 12 members earned 35 individual awards. Members joined over 2,200 other participants at the three-day conference held April 6-8 by attending general sessions and professional development workshops, competing in various business events, visiting the campaign and college representative booths, and electing the 2017-2018 Nebraska State Officer Team. Adviser Cindy Talley along with chaperones, Tabitha Babella and Sheri Shroyer accompanied the group.
The senior members led the way with president Stephanie Babella receiving recognition for achieving the Leader level in the Business Achievement Awards, sixth place individually in Parliamentary Procedure, seventh place as the writer of the Local Chapter Annual Report, eighth place in Future Business Leader, and Honorable Mention in Public Speaking II and Job Interview. She will compete in the Future Business Leader event at nationals and also receive the America Level Business Achievement Award. Senior Aaron Poppert earned honorable mention (11th place) in Impromptu Speaking along with honorable mention in Future Business Leader (ninth place). Sophia Frook broke finals in Job Interview to earn a fifth place finish. Frook also earned an honorable mention (10th) in the Future Business Leader event. Poppert will compete at nationals in Impromptu Speaking and Frook qualified for Job Interview.
Another highlight was the performance of some of the sophomore members in attendance. Three qualified for national competition in Anaheim, California in June by placing in the top three of their events. Ethan Reinsch placed in all the events he entered and received first place along with partner Braden Myers in Mobile Applications, second in Introduction to Information Technology, seventh in Computer Problem Solving, and Honorable Mention in Cybersecurity and Accounting I. Besides Mobile Applications, Braden Myers also placed in all his events including honorable mentions in Computer Problem Solving, FBLA Principles, Introduction to Information Technology and placing individually in Parliamentary Procedure (seventh). Sophomore Elise Frook earned her way to nationals by earning a second place award in 3-D Animation.
The team of Alia Hurst, Darren Shroyer, and Abigail Parten spent many hours completing and presenting an American Enterprise project. The performance earned them a seventh place award. Alia Hurst also participated in the Sales Presentation event and earned fifth place. Junior Maggie Maffin received seventh place in Word Processing and honorable mention in Organizational Leadership.
Honorable mentions are awarded to the top 10 percent of students participating in events. Many events had hundreds of students enrolled. Other students from Geneva who earned honorable mention certificates included Ryan Poppert in FBLA Principles and Amy Maciel in Organizational Leadership.
Additional chapter awards included the Go Green Award, Feed Nebraska, March of Dimes, IGive, Connect2Business, StepUp2Tech and Friends of Foundation recognition. Fillmore Central also received the Sweepstakes Award which is based on chapter participation in ten activities as prescribed by the state office. Chapter attendees proudly wore the eight chapter project ribbons they had earned through these projects.
Other prejudged events included Quality Member, the Community Service Award and Who's Who in FBLA. Three officers were named Quality Members including Ryan Poppert, Alia Hurst, Stephanie Babella. President Stephanie Babella represented the chapter in the Who's Who event. Babella, Alia Hurst, Ryan Poppert, and Darren Shroyer earned the Community Service Award for contributing 50 hours towards service projects locally.
Through the years, Fillmore Central has had a winning tradition of sponsoring a parliamentary procedure team.The parliamentary procedure team members earned a second place award based on their performance of a properly conducted business meeting. Stephanie Babella served as the chair, Ryan Poppert as secretary, Aaron Poppert as treasurer and Braden Myers as member.
Caitlin Moore was nominated as a Star Volunteer of the Year and was recognized at the Saturday Awards Session. Caitlin is a past president of the local chapter and national competitor during her high school years. She has been a loyal supporter of the chapter by serving on the Advisory Council, attending SLC as a chaperone, and helping prepare the members for competitions.
Ethan Reinsch, Amy Maciel, Faith Lauber and Ryan Poppert represented the chapter as voting delegates. They took extra time to meet officer candidates and attended the final voting session. Adviser Cindy Talley also served as co-chair of the Job Interview event.
Members attending SLC this year included Seniors Stephanie Babella, Sophia Frook and Aaron Poppert; Juniors Alia Hurst, Amy Maciel and Maggie Maffin; Sophomores Madison Bonin, Elise Frook, Caleb Gardner, Faith Lauber, Braden Myers, Ryan Poppert, Ethan Reinsch, Darren Shroyer; and Freshmen Brock Godown, Trevor Meyer and Abigail Parten.
The FBLA Chapter will celebrate its achievements by holding the annual Honors Program on Monday, April 24. Local outstanding and quality members will be announced in addition to installation of the new officers for 2017-2018. National competition will take place June 27-July 3 in Anaheim, California.