Local Music Ambassadors Travel To Europe
Details

Published on Tuesday, 01 August 2017 13:29
Written by thenebraskasigna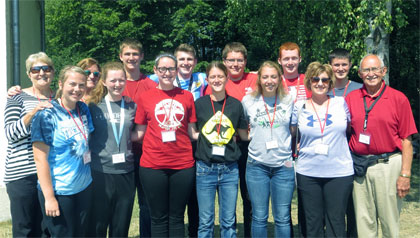 The Nebraska Ambassadors of Music, through Voyageurs International, has sponsored music trips to Europe and Greece for Nebraska Music students for over 30 years, traveling every other year during the month of June.
This year, 2017, the group of 256 students, staff and a few adults traveled through England, France, Switzerland, Liechtenstein, Austria, Italy, Germany and Greece.
The music ensembles consist of a band of 125 members, a choir of 140 members, and a string orchestra of 19 members performing concerts in each of the countries. They were there approximately three weeks, starting with a three-day concentrated rehearsal camp at Fremont Middle School, before leaving for Europe.
The students are nominated by their music teachers/administrators for this experience of a lifetime. Spending approximately three days in each country, they have a great opportunity for much sightseeing besides performing.
The bands perform in large outdoor gardens and the choir and orchestra perform in famous European cathedrals. A highlight this year for the choir was the opportunity to perform in St. Marks Cathedral in Venice, Italy.
All of these concerts are very well attended and the students and the staff are greeted very warmly by the people of the various countries. This is truly an experience of a lifetime for these young Nebraska musicians.