Awarded Quilt Of Valor
Details

Published on Tuesday, 29 August 2017 15:30
Written by thenebraskasigna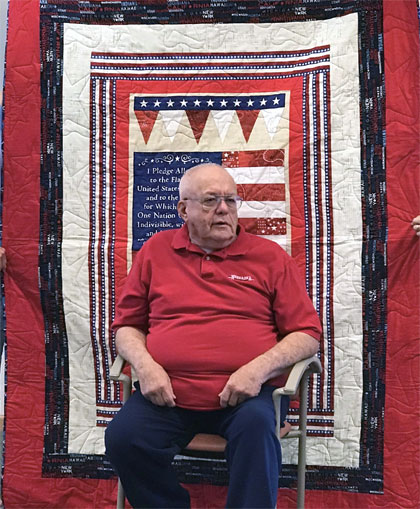 LaVern F. Novak was recently awarded a Quilt of Valor at Heritage Crossings in Geneva.
LaVern served in the U.S. Army from September 27, 1960, to June 29, 1962. He held the rank of Specialist 4th Class E4 and was located in Fort Riley, Kan.; Fort Leonard, Mo., Kaiserslautern, Germany-seventh Army during the Berlin Wall Conflict. LaVern received the Good Conduct Medal, the Expert Marksmanship Badge and the Overseas Medal. He served as a mechanic with the 521 Engineer Group Motor Pool and worked on jeeps, up to 2.5 ton vehicles and the Colonel's car.
LaVern remembers on Memorial Day of 1961, he drove a 2.5 ton truck pulling a water tank to the Lorraine American Cemetery and Memorial in St. Avold, France. The water was to be used for making coffee, tea and Kool-Aid for the visitors attending the Memorial Day Services.
The Lorraine American Cemetery and Memorial contains the largest number of graves of the military dead of WWII in Europe with 10,489 burials. LaVern will always remember all the rows of Crosses and Star of David tombstones. The policy was that no American soldier was left buried in enemy territory.
He had the opportunity to see France, Switzerland and Italy while he was stationed in Germany.