American Red Cross Heroes
Details

Published on Tuesday, 12 September 2017 14:46
Written by thenebraskasigna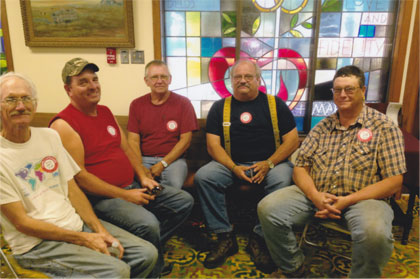 These men are faithful blood donors to the Geneva blood drives held six times a year in the community in the months of January, March, May, July, September and November. Together they have donated 221 units of blood to the American Red Cross to date. They are just a few of the "Heroes" in Geneva. Every business, every household, every family should have at least one faithful blood donor because the need for blood will present for someone at your job, in your home or in your family or to friends at some point in the future.
Facts: Donors must be age 17 (16 years old needs parental consent) and there is no upper age limit. If you have allergies or asthma, you may donate as long as you feel well the day of donation. Blood pressure should be 80/50 to 180/100 to donate and prescribed medications for hypertension are acceptable for donation. A diabetic person is eligible to donate if disease is controlled by diet, non-bovine insulin or oral medications. A donor with a pacemaker may donate as long as the heart rate is 50-100 beats per minute. If you have had angina, stent placement, coronary artery bypass graft, a heart attack or angioplasty, you must wait six months before trying to donate.
Tattoo's: Ear or body piercing is approved if the site is healed and done by a licensed artist with sterile or single use instrument.
Pregnant women are not eligible until six weeks post-partum. A nursing mother is eligible.
If you have had surgery, you may donate if you have returned to normal activity, feel well and the underlying illness is not a disqualifying factor.
Donation intervals for whole blood are every 56 days. Donation time takes less than 60 minutes from the time that you check in until walking out after a stop at the canteen. The actual time from insertion of the needle to removal is less than 10 minutes. If giving double red cells (where two units of red cells are removed and you are given back your plasma plus some saline) then this process takes 90 minutes total. Double Red Cell donors can donate every 112 days. Your hemoglobin will be checked by a finger stick when you do your health history with the Red Cross technician. The required hemoglobin levels vary depending on the donation that you want to do and if you are male or female.
The next Geneva blood drive is September 27 at the United Methodist Church Fellowship Hall. Regular donors with appointments will receive confirmation by September 22 from local coordinator of the American Red Cross by postcard, text or email.
If you wonder about your eligibility, please call "Donor and Client Support" at 866-236-3276.
To download the Blood Donor app, go to: redcrossblood.org or call 1-800-Red Cross (1-800-733-2767). You may check in using your drivers license, your Red Cross card or your smartphone if you have the correct app.
Appointments are always preferred because of the work schedule for regular donors and their limited time away from their job. (The best time for walk-ins is 2-4 p.m.). If you want an appointment, or cannot keep your appointment on September 27, please call 402-366-9417 anytime.