Shickley rural postal carrier retires
Details

Published on Tuesday, 03 October 2017 19:57
Written by thenebraskasigna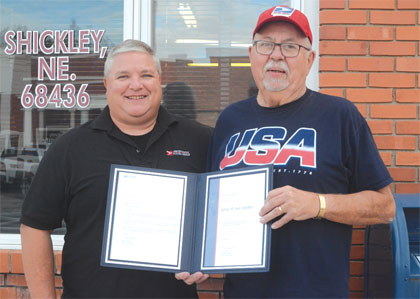 By GREG SCELLIN
Signal Editor
Friday was the last day on the job for Jim Vanwesten. Jim, who lives in Alexandria, delivered mail on a rural route based out of the Shickley Post Office full-time for eight-plus years and part-time (subbed) for another dozen years or so. Before that and during his part-time driving, Vanwesten worked for the Nebraska Department of Roads out of Fairbury for 39 years.
His route, which started out of Shickley, included two stops in Clay County, 60 stops in Thayer County and 90 stops in Fillmore County. His daily route was just a little short of 140 miles.
"I've met a lot of real good people up here," Vanwesten said.
A typical day started with the drive to Shickley and coffee at the local cafe. Then, it was time for the route which took him just a little over seven hours to complete each day. He said that blowing snow was the worst part of the job, and that he had to stay three times in eight years overnight at customer's homes because of the snow and failing road conditions.
Retirement will include organizing his sheds and possibly helping his brother and others farm in the Alexandria area.