BDS In Sub With Meridian; Johnson-Brock On Other Side
Details

Published on Wednesday, 01 November 2017 14:52
Written by thenebraskasigna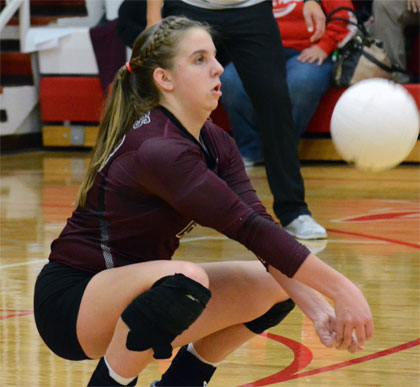 Bruning-Davenport/Shickley enters the post-season at 25-4 and No. 3 in wildcard points in Class D-1. The Eagles trail Meridian and Johnson-Brock in the wildcard standings. BDS will more than likely, face Meridian in the D1-2 Sub-district final on Monday, October 30, in Fairbury. Johnson-Brock will, more than likely, be waiting to face this winner in the D1-1 District final.
The Eagles four losses this season are to Meridian, twice, and once each to state-rated Exeter-Milligan and Giltner. BDS played 19-11 Lawrence/Nelson on Monday in the D1-2 sub-district second match.
To end its regular-season, BDS travelled to Sandy Creek to take on the Cougars and Sutton.
In the first match last Tuesday, the Eagles faced 14-9, Class C-2 Sandy Creek.
"We got off to a sluggish start before some terrific defensive plays by Jadyn Kleinschmidt sparked our attack," BDS head coach Kari Jo Alfs said.
The Eagles took their first lead of the set at 17-16 and behind strong play from Megan Grote and Carley Elznic, BDS took the first set, 25-22. The Eagles started better in set No. 2.
Regan Alfs belted eight straight service points early in the set and Elznic took over later to rattle off five straight. BDS won the second set, 25-10.
Elznic drilled 11 kills in the win and Alfs had seven. Kleinschmidt connected on six kills and Macy Kamler belted four. Kleinschmidt also tallied 13 assists. Emilie Schardt notched two ace blocks. Kamler paced the defense with 13 digs. Elznic thumped four ace serves and Grote and Kleinschmidt each tallied one.
In its second game, BDS downed Sutton 25-14, 25-9. The first set was close before Kamler served for eight consecutive points.
"We were able to get the entire bench into the game in our last regular season game," Alfs said. "The entire team works very hard in practice challenging each other every day, so it's very rewarding when they are able to get court time, as well."
Alfs tallied seven kills against the Fillies and Elznic had five. Kleinschmidt put up nine assists and Alfs had six. Elznic recorded seven digs and Grote had six. Kamler served for 11 points (one ace) and Alfs served for seven (two aces).
"Tonight's games were big wins, as the Eagles are contending for wildcard points to get to Lincoln," Alfs added.