Timberwolves Back At State Tournament
Details

Published on Tuesday, 07 November 2017 16:47
Written by thenebraskasigna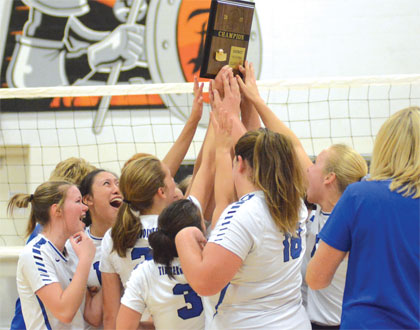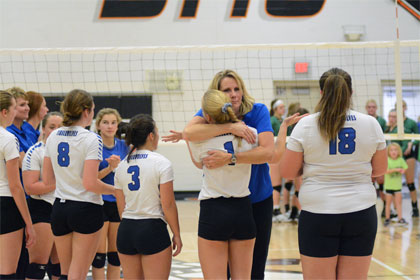 By GREG SCELLIN
Signal Editor
The Little Team that Could has done it again.
In a season that almost never happened, Exeter-Milligan swept perennial power Falls City Sacred Heart in the D2-1 District Final Thursday to advance to this week's NSAA Class D-2 State Tournament. The 24-6 Timberwolves were more-than-likely assured of a wildcard spot in Lincoln if the top-seed District teams won, but there was no reason not to make sure of things.
The first set in Beatrice was a back-and-forth affair with the score being knotted at 17-17. A Kate Jansky block and two Tara Mueller ace serves helped secure the first set, 25-20, with a Hannah Beethe kill.
And, then there was the second set. One for the ages. Behind extra-scrappy defensive play, the Irish were not going to allow E-M any long scoring runs. After an 8-8 beginning, the Timberwolves spurted out to a 13-10 advantage but FCSH came right back to tie it at 16-16. From then on, few balls hit the floor and the score see-sawed to 19-19, 21-21, and so forth. The Timberwolves had a match point opportunity at 25-24 but were denied.
And, so it began. Only to finish 37-35 before a frenzied crowd at the Beatrice High School and some stressed and tired players no doubt.
When asked if she had ever been a part of a set like that, 25-year E-M head coach Darcy White's eyes got big and simply said, "No."
"I can tell you that's the highest scoring set I've ever been involved in," White said. "That was a great match...that was just fun."
"They had us scouted well...and that's good. We know now what we have to get better at. There were so many service errors in that set, and, of course, they are huge at the end. We were lacking some things in the second set. We have some things to fix."
With every opportunity to pack it in, FCSH battled early in the third set. The score was 12-11 before Katherine White and company began to dominate the net. White pounded down 19 kills in the victory to pace the Timberwolf offense. Soon, the score was 17-12 after several Irish serve and passing mistakes. E-M took the third set, 25-15.
"We started out a little tense," White said. "We just needed to relax...but we have so many girls playing in different places and everything. I've never had a team playing so well together as these girls are now. It's amazing."
Amazing is a good word, as this summer there was significant talk that E-M would not have enough girls out to even field a volleyball team. School administrators and the E-M School Board explored options to possibly co-op with another school district to field a team. In the end, senior Katie Mounce decided to try volleyball again after not playing since the eighth grade. Freshman Daisy Kanode is also now working into the line-up.
"Katie (Mounce) is who you should be interviewing," White said. "Without her, we might not have even had a team. She joined the team to make a team...she's a great girl and she gives her all for the team."
Now, E-M will be making its seventh trip in eight years to Lincoln—a run that includes four state championships. The third-seeded Timberwolves draw 18-9 Mead in the opening round. E-M absolutely crushed the Raiders in three sets in the D2-2 Sub-district final last Tuesday in Shelby.
"We were just on fire that night," White said. "I expect a much different match this time around."
The Timberwolves face Mead this Thursday at 3:30 p.m., at Lincoln Northeast High School. With a win over the Raiders, E-M will face the Hyannis/Elwood winner at 9 a.m., on the North Court at Pinnacle Bank Arena. The Class D-2 final begins at 9 a.m., this Saturday morning at Devaney.
"We are playing so much better than we were just not that long ago," White said. "Whatever happens from here, I'm okay with it, this has just been quite the year."
Beethe drilled 11 kills against FCSH in the 25-20, 37-35, 25-15 District final win. Mueller smacked eight kills and Jansky had four. Kanode tallied 21 assists and Sluka had a dozen. Mueller added five ace sets and White had three. Jansky came up with eight ace blocks. White served up four aces and Mueller and Jansky both belted three. Sluka thumped a pair of ace serves. Sluka paced the serve receive with 15 digs and Beethe and Mueller both had 10.
E-M came out serving extra aggressively against Mead on October 31 in the D2-2 Sub-district final. Solid net play (five ace blocks and 41 kills) coupled with 11 ace serves powered the Timberwolves past the Raiders 25-13, 25-7, 25-14 at the Shelby/Rising City High School. It might also have been a testament to the strength of CRC volleyball.
White smacked 14 kills against Mead and Beethe and Mueller added 13 and 11 kills, respectively. Kanode posted 17 assists and Sluka had 14 ace sets. Jansky tallied three ace blocks.
Sluka came up with 18 digs and Beethe had a dozen. White came up with 10 digs and blasted three ace serves. Sluka ripped four ace serves in the romp. Mueller came up with eight digs.
E-M started D2-2 Sub-district play with a 25-15, 25-12, 25-11 victory over Dorchester on Monday, October 30.
White crunched 13 kills against the Longhorns and Beethe nailed 11. Mueller had four and Jansky had a pair. Kanode and Sluka both posted 10 assists. White ripped three ace serves and Kanode and Mueller both slammed in a pair.
Jansky came up with four ace blocks in the win. Beethe posted 10 digs and Jansky had nine. Both White and Sluka recorded eight digs.