Details emerging about new community center
Details

Published on Friday, 14 September 2018 18:08
Written by thenebraskasigna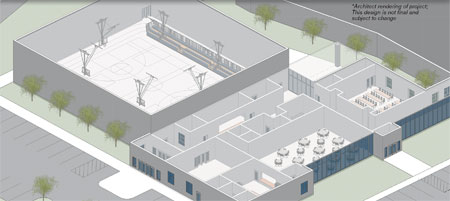 By GREG SCELLIN
Signal Editor
Information was distributed at last month's Geneva Senior Center Ice Cream Social on the proposed new Geneva multi-generational community center. Geneva City Councilman Josh Turner has been working with a committee of Geneva residents and community leaders, who have been looking into a possible replacement for the current Geneva Senior Center, which is owned by the Fillmore Central Public Schools and uses rest room facilities that are located in an adjoining private building.
The news of the possible use of a nearly $400,000 state/federal grant has ramped up the effort to get the project started. The senior center also has savings from past donations and fund-raisers to be used toward a new center.
"I think we're at the point that we're ready to break this project out to the public," said Turner at a recent Geneva City Council meeting.
Committee members at the ice cream social on August 23 said they are pretty close to what they want to actually present to the public, as far as a design for the community center. The best location for the center could be the northern most part of the lots which once housed the old Fillmore County Hospital. The new center could contain a senior center area that could accommodate 120 for meals; a youth activity center and classroom space for up to 50 individuals. The new center could be attached to the current Fillmore County Wellness center with a breezeway type structure.
In a provided hand-out, the project would include space for community health, fitness and wellness activities; provide a gathering place for people of all ages; and after-school indoor recreation space for children and youth.
"This has been 18 months in the making," said committee member Michele Rayburn. "This is what the committee has landed on. We have included all the features that people suggested in the survey."
Committee members noted a recent community survey indicated that over two-thirds surveyed said a new community center is an essential need for Geneva.
To fund the project, a public-private partnership is suggested with the City of Geneva providing 40 percent of the funding. The handouts states that $700,000-plus in donations and grants have already been secured. Committee members said they have a fund-raising goal of $2.5 million. They said that all donations are planning to be made through the Fillmore County Foundation. Using these figures, the new community center would have a price tag of about $4.2 million.
"We know it's an expensive undertaking," said committee member Nancy Meyer. "But we also know, it is needed."
If everything comes into place, construction is expected to begin by the spring of 2020. For more information on this project, you may contact Turner or Geneva Senior Center director Victoria Verhage at 402-759-4921.