BDS Cages Cougars; 7-0
Details

Published on Thursday, 18 October 2018 14:28
Written by thenebraskasigna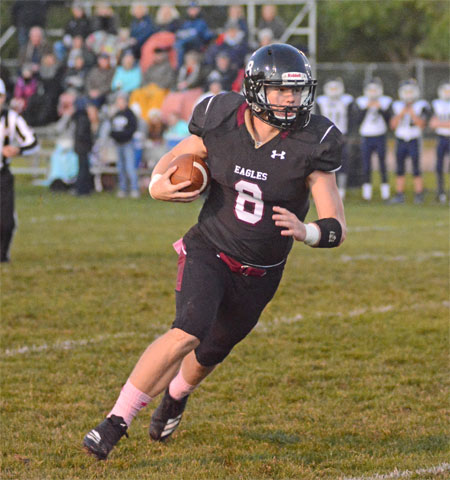 Bruning-Davenport/Shickley remained unbeaten with a 34-18 victory over Cross County on Friday night. The 7-0 Eagles and Cougars (4-3) battled to a near standstill in the muck and the mud in Bruning.
The Eagles dominated the second half with a third-quarter score and two TDs in the fourth quarter. The score was 14-12 BDS at half time.
"We feel like this was the best game we have played," Eagle co-head coach Mark Rotter said.
BDS quarterback John Christensen proved he liked the off-going rushing for 196 yards and four touchdowns. He also passed for 65 yards. The senior signal caller hooked up with Logan Schroeder for a score. Christensen also rushed for two PATs. Heath Calvert had 15 yards rushing and Kameron Dickson had 13. Schroeder had 49 yards receiving.
BDS had 291 yards of total offense and Cross County had 179. Both teams had a turnover. BDS was penalized for 66 yards.
The Cougars came into the contest averaging 360 yards a game on the ground. The BDS defense limited Cross County to 58 yards on 35 attempts.
"Our front four linemen (Jacob Schoenholz, Nolan Weber, Isaac Else and Kyle Ardissono) took a stand and were the first ones to disrupt the Cougar rushing attack," said BDS co-head coach Chris Ardissono.
Weber was in on 21 stops. Ardissono made 18 tackles and Christensen had 16 stops. Else logged 14 tackles and Aaron Mick had 12. Schoenholz was in on 11 tackles.
The Eagle coaching staff was also proud of their squad's special team play.
"Our special team players Isaac Kamler, Zach Mosier and Josiah Kamler gave us come great field position," Eagle asst. coach Ryan Philippi said.
BDS ends its regular season this Friday night in Shickley against Thayer Central.