FC Falls To Titans
Details

Published on Tuesday, 06 November 2018 21:30
Written by thenebraskasigna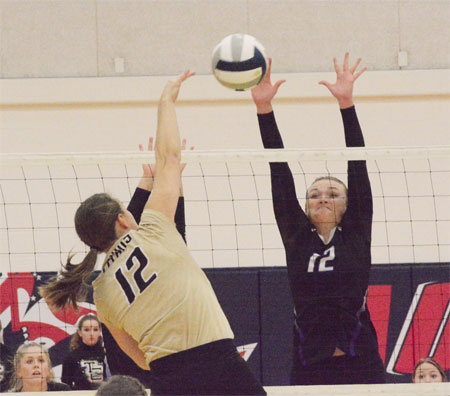 Fillmore Central couldn't get past a scrappy Thayer Central squad last Monday night in play in the C2-3 Sub-district in Hastings. The Panthers fell to the 26-6 Titans 25-22, 25-17, 25-16, on October 29. The loss dropped FC to 17-10 on the season and one team away from making the 16-team play-in to make it to State. TC and sub-district champion Superior both advanced to the C-2 State Tournament.
The first set at Adams Central High School was tight throughout with the score tied at 17 all. A Halle Theis kill had FC up 19-17 before tzhe Titans tied it up again. Moments later, a Lexi Theis kill had the Panthers up 21-20 before TC controlled the set from there.
The Titans dominated the second set racing out to a 7-1 lead. The TC defense allowed no balls to hit the floor and cruised to 17-10, 19-11 leads en route to the set.
FC led early in the third set before strong Titan serving powered TC ahead 11-8. The Titans would then go on a 7-3 run to lead the final set 18-11 and hold on for the win.
H. Theis led the Panthers with seven kills and Erin Schmidt added five terminations. Macy Scott posted 12 assists and L. Theis had five. H. Theis paced the defense with 15 digs and two blocks. Scott had eight digs and Schmidt was in on six blocks.
Seniors on this year's squad include Lexis Jenkins, Avis Koca and Hannah Norvell.
"We had a great season," commented first-year head coach Dawn Temme. "We have a young team with a lot of talent coming back."