4-H Youth Accomplishments Celebrated
Details

Published on Tuesday, 06 November 2018 21:32
Written by thenebraskasigna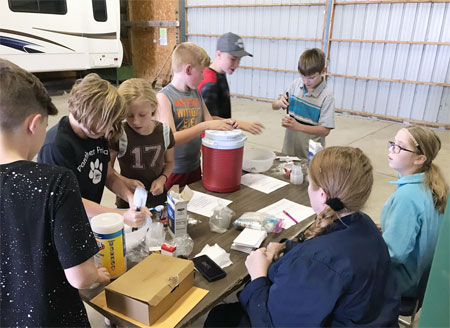 On October 28, seven teams of youth met at the Fillmore County Fairgrounds to compete in the "Amazing Race" 4-H style to celebrate the new 4-H year. Teams received clues which took them to different buildings on the fairgrounds where youth did various challenges in order to receive a clue and special item to their next location. At the end of their travels youth had to take all the items received from each phase of the race and create a piece of art. Everyone then enjoyed ice cream sundaes provided by the Fillmore County 4-H Council.
Also at this event, 4-H youth were celebrated for their accomplishments of the 2018 4-H year. Individuals receiving awards for completing their Clover Kid Record books were Jaylyn Zajic, Wyatt Hafer, Reagan Williams, Cullan Schmidt and EmyJay Houck.
Those receiving county awards for their Career Portfolio and Achievement Application were Hailey Miller in sheep and clothing and textiles; Hannah Miller in sheep, woodworking, and public speaking; McKenzie VanDeWalle in beef, food/nutrition and public speaking; Sadie Birky in beef, citizenship and leadership; Tucker Robinson in citizenship, child development and theater arts; and Lexis Jenkins in citizenship, floriculture and fashion show. Receiving district awards were Sadie Birky in leadership and citizenship and Lexis Jenkins in plant science and leadership and citizenship.
Receiving 4-H Diamond Clover awards were: Level 1-Hailey Miller, Michael Lockhart, Jaci Howell, and Elijah Conway. Level 2-Waylon Rayburn, Ellie Janing, Bailey Hafer, Elizabeth Lockhart, and McKenzie VanDeWalle. Level 3-Wyatt Rayburn. Level 4-Tucker Robinson. Level 5-Lexis Jenkins.
Champion Livestock Showmanship jackets sponsored by Flint Hill Resources were also handed out. Junior showmen receiving jackets were Jaret Potthoff in beef, Aidan Vavra in swine, Jackson Spurling in sheep and Grace Probasco in Horse. Intermediate showmen were Cade Kresak in beef, Kaili Head in swine, and Lauren Richards in sheep. Senior showmen receiving jackets were Nicole Swartzendruber in beef, John Alfs in swine and Reid Richards in sheep.
The Fillmore County 4-H program would not be possible without our amazing volunteers. Receiving recognition for being 4-H club leaders were John Janing and Joe Birky. Also being recognized for their volunteer service on the Fillmore County 4-H Council were Joe Srajhans, Sadie Birky, Justin Stengel, Regan Alfs and Tori Stoldorf.