E-M 2-1; Second In MUDECAS A Division
Details

Published on Tuesday, 15 January 2019 15:54
Written by thenebraskasigna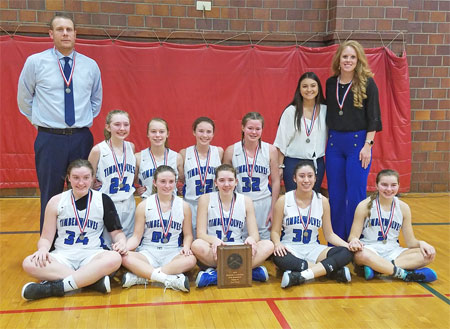 Exeter-Milligan earned runner-up honors in the talent-filled 2019 edition of the A Division of the MUDECAS Girls Basketball Tournament. The 13-2 Timberwolves (No. 4 in wildcard points in Class D-2) fell to 12-3 No. 2, Class D-2 Sterling 55-26 in the final in Beatrice on January 11.
E-M was ice cold (7-for-50 and 1-for-15 from 3-point land) in the Friday night final and were without the services of second leading scorer Katherine White after the first five minutes of the contest. The much-taller Jets led the contest 26-13 at intermission and built their lead in the third and fourth quarters. Sterling owned the glass, 27-22, and forced 19 turnovers. The Jets shot 39 percent on the night and made four 3-pointers.
Alexis Turrubiates paced the E-M offense with 12 points. Jaiden Papik added six points and Kate Jansky put in five points. Cameran Jansky laced in a bucket and both Kayla Geiger and Cammie Harrison converted a free throw.
On Monday, January 7, the Timberwolves downed Meridian 31-28 in its first-round contest in Beatrice. E-M led the low-scoring contest 13-9 at half time and 20-14 after three periods of play.
Jansky scored 11 points in the win and Emma Olsen had seven. Papik netted five points and C. Jansky had four. White scored two points and grabbed six rebounds. Turrubiates had a bucket and five boards.
On Thursday, the Timberwolves battled back from a 19-16 halftime deficit to beat Freeman, 39-31. E-M owned the second half, 23-12, over the 9-6, Class C-2 Falcons.
E-M shot an improved 37 percent (12-for-32) in the win and converted four 3-pointers. The Timberwolves were also solid at the charity stripe, 11-for-15.
Jansky swished in three 3-pointers and 17 points for the victors. Geiger scored nine points and White had seven points, 10 rebounds and five assists. Papik put in four points and Olsen had two points. E-M plays at Bruning-Davenport/Shickley (Davenport) this Thursday in a battle of state-rated teams.