Geneva City Council covers A to S agenda
Details

Published on Tuesday, 12 March 2019 16:34
Written by thenebraskasigna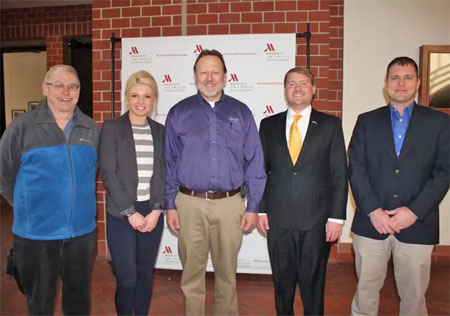 By GREG SCELLIN
Signal Editor
The agenda at the March 4 regularly-scheduled meeting of the Geneva City Council almost covered the entire alphabet (A-S). Among the items covered included moving pavement districts to the bidding process, housing development guidelines and opening and closing three Public Hearings.
First, the city council unanimously approved a $222,000 Geneva City Sales Economic Development loan to Nathan Graham to help Graham purchase his family's tire business. Graham plans to expand the business by adding two to three mechanics and perform a full line-up of automotive services. The sales tax loan and a loan from a Geneva bank will facilitate the purchase.
Prior to the vote, Economic Development Committee member Dr. Jason Bespalec told the city council his committee voted unanimously to approve Graham's loan application and that Graham's application went above and beyond what is normally provided to the committee.
"The entire package was top notch," Bespalec said. "It's also important to note that he plans to provide new services, as well"
The city council then opened and closed Public Hearings for Zoning Language and Map updates and a new Comprehensive Plan. No testimony against either was heard and both were approved. A Housing Study was also approved.
The city council then went over specifications for paving 19th Street and a small portion of H Street in the area that will become a city housing development area with Ryan Kavan representing JEO. Kavan said he could see this project being ready for bid later this month with substantial completion slated for October. He commented he thinks the paving and infrastructure work (sanitary sewer, water and drainage improvements) could take two months complete with an estimated total cost of $731,720.
Kavan commented that the paved road in the location will be much straighter than the gravel road is in the area and it will come to a "T" intersection. Several on the city council commented on whether the paving would be conducive for locating the multi-generational project there. The city council approved the specs for a 38-foot paved road and instructed Kavan to begin the bid process.
Next, the city council approved the specs and instructed Kavan to begin the bid process for paving and lighting work along G Street between 11th and 13th Street. Several alternate bidding options will be available for this project.
The main bid will contain two blocks of concrete paving, lighting elements on both sides of the street and a center island created to house the Geneva arrow sign. This work carries an engineer's estimate of $794,299 for paving and $248,228 in lighting for a total cost of $1.036 million. Alternate bid options range between $22,900 and $32,150 for adding brick pavers in the street design. Another alternate bid for placing lighting elements on N. 9th Street is estimated to cost $119,130. Kavan estimated this project would take three months to complete. He also advised the city council to bid the two projects separately because the G Street project involves a mix of local, state and federal funding making the paperwork process daunting.
In other meeting notes:
• The city council heard a report from City Administrator Kyle Svec and City Clerk/Treasurer Kelly Stroh-Heath about a Rural Workforce Housing Fund Agreement. City officials from five communities—Auburn; Beatrice; Deshler; Fairbury and Geneva have been working on. The agreement, which also involves the Southeast Nebraska Development District, is being made to pursue LB 518 money. If enacted, the agreement would create a pool of approximately $1.5 million in a revolving-loan type set-up for vertical housing creation.
• The city council, along with City Attorney David Solheim debated at length what the housing guidelines should be at the Northeast Third Addition and the Northeast Fourth Addition—the 16 platted lots east of the Fillmore Central Elementary School.
"The city's job is to get the character of the neighborhood you're wanting to achieve," Solheim said. "You want to make sure your neighbors are looking to make a similar investment as you."
Svec noted there is some interest in the area. The city council looked over the guidelines associated with the recent Legends Lane area. Svec noted he feels confident that there are two builders that are ready to break ground as soon as possible.
"We want this to be a neighborhood that's going to be good going into the future," Svec said. "It has the appeal of a new area...new construction...with the elementary school and hospital right there...new pavement."
Solheim will compile the city council's thoughts and formulate a set of guidelines to be approved at a future meeting.
• During his administrator's report, Svec noted that State Department of Roads officials have indicated they will be working on the north entrance into Geneva off U.S. Highway during the summer of 2020. He also reported that city workers have performed about 90 hours of overtime handling snow removal in the city.
"I think you've been doing a great job," Councilman Chuck Udell said.
• Svec also noted that he believes bid documents for the new Geneva Fire Station will be ready by the first part of May. If this happens, Svec said he could see construction starting in mid-June with a completion date of March 2020.