Autonomous planting happens in Fillmore County
Details

Published on Tuesday, 21 May 2019 15:48
Written by thenebraskasigna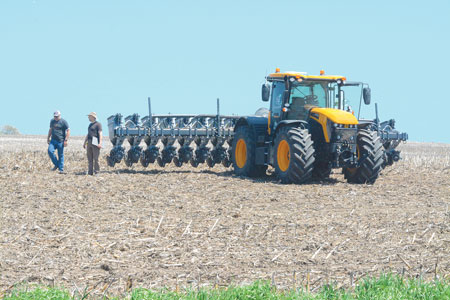 By GREG SCELLIN
Signal Editor
Something you definitely don't see every day took place last Tuesday just northeast of Fairmont. A driver-less yellow-and-black tractor and planter planted soybeans in a field for Bristol Farms Fairmont, NE. The autonomous planting last week is thought to be the first ever in Nebraska.
SabantoAg founders Craig Rupp and Kyler Laird were introduced to Shane Bristol through Ag Astra, an agricultural service company in Pratt, Kan. Always on the look-out for new innovations in agriculture, Bristol contacted the pair to come to Nebraska and autonomously plant a field of soybeans located at the southeast corner of County Road 14 and County Road E.
"With margins being as tight as they are now in farming, you need to be open to new things," Bristol said. "What is the definition of doing right in farming these days? You have to be efficient and resourceful...we've updated to no-till...we're taking steps to conserve water...this might be the next thing."
Bristol noted that the autonomous system, if perfected and trustworthy, could allow one person to perform the job of two people during planting season. It could do the planting, while another could tend to seed and fertilizer.
Rupp and Laird began an ambitious goal of autonomously planting 10,000 acres this spring. They made the trip to Fairmont from Sac City, Iowa. They were in Indiana before Iowa.
"Weather has definitely been a challenge for us," Rupp said. "We've had quite a few farmers lined up in Iowa, Illinois, Indiana, Minnesota, even Canada. It's just being able to get to them. We couldn't get going until mid-April. Now, it's pretty much we hear some planters are rolling somewhere and we head there."
Rupp said SabantoAg is still in the proof-of-concept stage and field-testing the concept and working out the bugs. He also noted that he likes what he's been seeing and likes the future of autonomous planting.
"Innovative small guys are going to bring autonomy to agriculture," Rupp said. "We have a wonderful product. We plan to take it down the road and bullet proof it. Great ideas collect dust if you don't go ahead and move on it."
Laird and Rupp were both spending time in the JCB Fastrac 4220 tractor on the Bristol farm because of the amount of residue in the field. Rupp noted that the no-till farming practices in Nebraska are different than the ones used in states to the east of the Cornhusker state. Bristol commented that the no-till practice is extremely important here to conserve precious amounts of water.
"I want to do this the rest of my life," Bristol said. "Limiting water usage is huge."
Bristol said because of this, he's a big proponent of prescription irrigation.
"You need to put the correct amount of water where you need it," he said.
Rupp, who is named on 13 patents and grew up on a farm in northwest Iowa, said he sees Laird and himself being able to make the necessary changes to allow autonomous planting to work in Nebraska's dense, no-till fields.
"I would like to thank Shane Bristol," Rupp said. "He has taught us a lot about agriculture and the agricultural practices here in Nebraska. I had no idea there are that many differences."